Family and Holidays
profile/3696FB_IMG_166154600052001842.jpg
Ndoma
Doctor Batters Wife Over Refusal To Circumcise Daughter
A wife of a medical doctor, Na'omi Jolly, has alleged manhandling by her husband following her refusal to allow their daughter to be circumcised.
She told Niger Delta Trust that her husband almost killed her when he insisted on their daughter being circumcised and she refused. According to her, the matter, which has degenerated to regular manhandling is currently being investigated by the Cross River State Police Command.
She said the problem, which is now a nightmare to her, started in 2015 when she had her first child. She said all attempts by a team of mediators from Cross River State Ministry of Justice, to resolve the issue further elicited more battery. She said her refusal to allow her daughter to go through circumcision stems from her own experience when she was barely 12-years old.
Madam Na'omi said she almost bled to death after her own circumcision years ago. "It all started in December 2015, when I gave birth to my daughter, Amanda. After delivery, my husband asked me what I know about female circumcision and I told him I don't like it at all. I narrated my own experience to him. That was when I was 12 years. My parents did it and I bled to the point of death. So I said to him that I will not want anyone to have such an experience.
"He said that's why he wanted our daughter to have it done immediately after birth, according to him, to avoid unnecessary bleeding when she's grown up. "I begged him not to allow our daughter to go through such harrowing experience but he refused so I screamed and cried, telling him that I was a victim. I pleaded with him but he said my opinion does not count. He said it's a tradition in his family to circumcise any girl-child born into their family.
profile/8428tmp-cam-8157534246278847166.jpg
Marlhyk
DJ Cuppy To Temi Otedola: They Don't Bully You As Much As They Bully Me
Disc jockey Florence Otedola aka DJ Cuppy has told her sister Temi Otedola that she gets bullied on social media more than the latter does.
The 29-year-old said this to her sister on Tuesday while responding to a tweet the latter made.
Igbere TV reports that Temi had tweeted that she loves the Twitter app.
Responding to the tweet, Cuppy wrote:
"Temi, they don't bully you as much as they bully me."
Since the release of her album Original Copy, the disc jockey has received several backlashes from fellow celebrities and critics who berated the album.
She has also been bullied severally by Twitter users who body-shame and age-shame her.
Singer Kelly Handsome knocked her in February 2021 after her performance at the Gold Dust saying that music is not for everyone.
"If I talk now haters will say their daily prayer 'black bla bla'….. 'Ur career don die'. 'U're looking for attention'. 'U're hating', meanwhile the person chatting has never stood out for anything in life.
"This is an insult to music as a career and an embarrassment to NAIJA music. This is like mocking real musicians, when did we get here? You cannot buy talent. They would have paid me or someone to write a proper song for her, bring out her British accent & all but No," he wrote on Instagram.
Temi is the younger sister of DJ Cuppy.
The sisters share a close relationship and are always teasing each other on social media.
Temi made her acting debut in the movie Citation directed by Kunle Afolayan which earned her an award for best actress category at Ghana Movie Awards. She was nominated for Revelation of the Year at Best of Nollywood Awards 2020.
Their father is business mogul Femi Otedola.
Admin Sponsored
Make money posting links on your social media
Generate passive income with your social media and whatsapp. Join Adsterra. Sign up is free
profile/2322Screenshot_20211203-0009152.png
Gistloverz
10 Things You Should Never Do To Babies
Though there is no one-size-fits-all rule when it comes to taking care of your little bundle of joy, these are some pointers you should follow. Remember that every baby is different.
The responsibility of a newborn is quite a task. You can never be too careful while feeding, bathing, holding, or even putting him to sleep.
#1. #Ask_people_to_NOT_kiss_your_newborn
"I don't care if you call me overprotective. Just don't kiss my baby" says Claire Henderson, whose newborn daughter Brooke was kissed on the mouth -- and then spent five days in the hospital after developing a certain kind of virus on her face.
During the initial few weeks of your baby's life, any kind of contact with bacteria and viruses can cause serious problems and unwanted illness. Wait till their immune system is a lot more bolstered up before you introduce them to the world at large.
#2. #Don't #leave_dirty_diapers_on_too_long
You may not love changing diapers, well who does, but this step is mandatory. The tiny little bodies excrete and urinate much more than a 6 month old baby. And hence, a diaper change is required frequently.
Keep a check on your baby's diaper at regular intervals to make sure there is no discomfort to them or a change needed.
This helps in preventing diaper rash, and also diseases.
#3. #Don't #offer_a_pacifier
Don't rely on the pacifier for keeping your crying infant calm. Your baby was born with a natural instinct to suck, but sucking on a pacifier too early can create confusions with their eating, and the breastfeeding schedules. Your baby is used to your body heat, your heartbeat and your scent-- and breastfeeding is a comfortable experience for your newborn. Let that be.
Hold off the pacifier for the first few weeks, so that your baby won't start to prefer pacifiers over the nipple.
Also, according to a study, children who use pacifiers are almost twice as likely to get multiple ear infections as children who don't.
#4. #Don't #change_how_things_function_around_at_your_house
Those curtains need not always be shut or the TV muted when your little one is napping.No, we are not evil! The sooner your baby gets used to the noise of the day, the better he will sleep, no matter the time. Let him get used to the daily routine of things.
#5. #Don't #over_dress_the_baby
You might always feel that your little bundle of joy is cold, but don't go too extreme. It's true that little babies don't get much warmth from moving around, but excess clothing can cause fever and dehydration if you aren't careful. Dress your newborn in layers so you can easily add or remove clothes to keep the temperature just right.
#6. #Don't #skip_an_appointment
Rain or scorching heat, dawn or dusk, be sure to take your little one to the doctor if there are any problems. Always schedule your appointments regularly, and don't skip visits. Getting a doctor's professional advice is always better than just worrying and thinking that your infant's problem is no big deal.
#7. Don't shake the baby
mrmum
Shaking the baby in different directions seems like the solution to stop him from crying. But it can cause harm. Sounds weird right? It is said that shaking the baby might make him to stop shedding tears even though he might be hurt or distressed. So to make sure that your baby is not crying due to sickness you could put him down in the cot or the bed.
#8. #Beware_of_camera_flashlight
People around might want to snapchat, facebook or instagram your baby, but establish this as a ground rule- No Phone or Camera flashes near him
#9. #Do_not_talk_or_play_while_feeding. #Only_cuddle_the_baby.
Feeding time is extremely important and the child's attention must be on the food, not you!
#10. #Say_no_to_sprays, #perfumes.
Yes, they can give your child an allergy for life!
Though there is no one-size-fits-all rule when it comes to taking care of your little bundle of joy, these are some pointers you should follow. Remember that every baby is different.
profile/2322Screenshot_20211203-0009152.png
Gistloverz
Parenting Tips You Should Practice Inorder For Your Child Not To Be Stubborn
Children misbehave for many reasons, but the most common one is that they are just bored. They realize that their behavior works, especially if they get their way and get what they want by doing so. Sometimes the desire for power is also the reason behind their mischievousness since this is a way for a kid to try and assert control. So, it is important to know how to battle these actions and how to handle them in a good way.
Here are some of the ways you can handle those behaviors:
1. Show them calmer approaches to situations: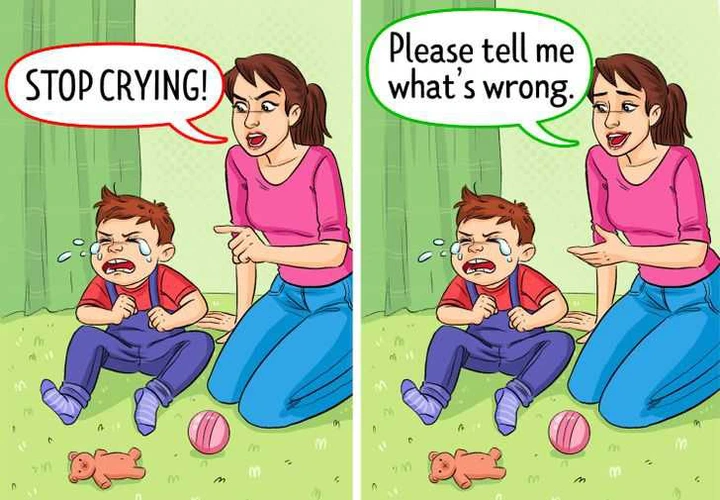 Children often like to copy their parents, so we should model their behavior and actions by teaching them to be calm. If they do something and you start shouting at them or beating them, that's what will become a normal thing to them and they'll make an habit out of such things. So, instead of shouting and beating them, show them a different way to deal with their emotions.
2. Carry snacks with you: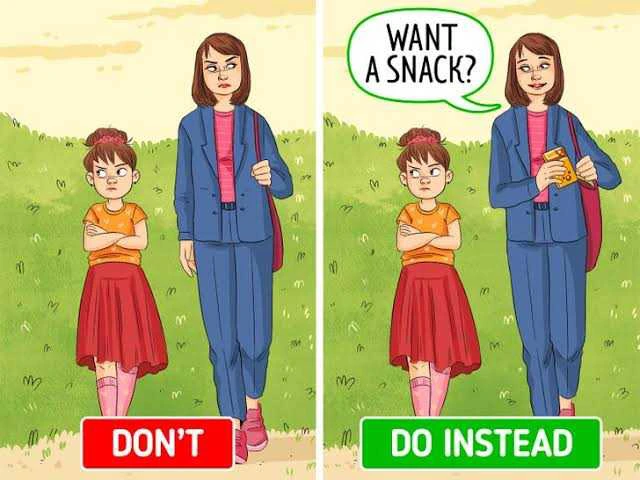 Children often behave badly when their stomachs are empty. They tend to show bad attitudes and disrespect when they are hungry, so if you and your child are outside, carrying snacks along with you might help keep your child in a good mood.
3. Make them aware of the results of the choices they make: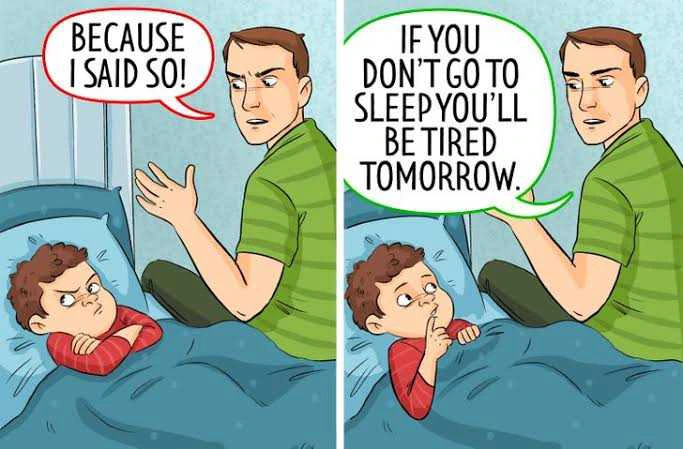 "Because I said so" or "because I'm your parent" is not a good reason to give to a child when they ask you why they shouldn't do something. Always try to communicate with them and explain to them what might happen if they are misbehaving and why they shouldn't do certain things. Make them aware of the natural consequences their actions might have, so they can learn and make better decisions for themselves later.
4. Create a routine for them to follow and reward them if they follow it: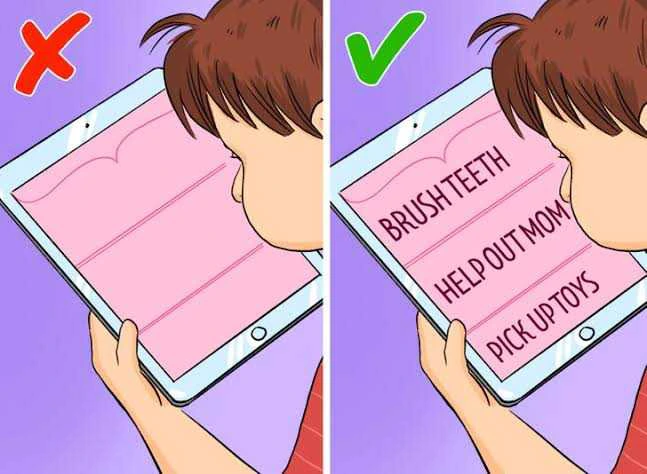 Help them develop a good routine like no TV after a certain time, helping with the dishes, brushing their teeth, and going to bed at an appropriate time. And if you want to get creative, you could draw up a board for the month. Tell them that if they follow their routine for the whole month (or 1 or 2 weeks) they could get some rewards.
5. Try to ask for their opinions and solutions to problems: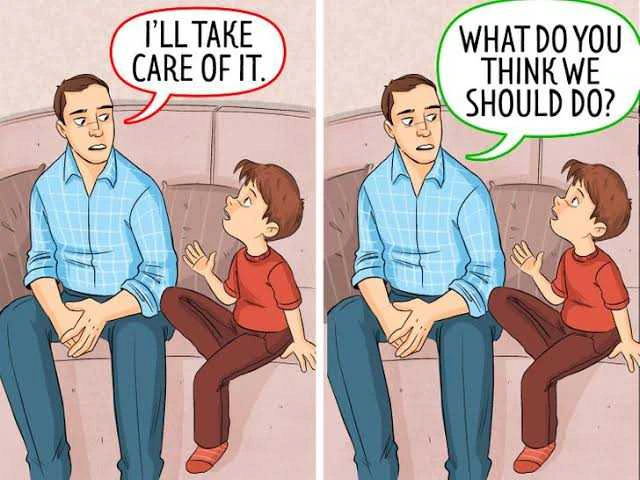 Ask them if there is a problem or if something is bothering them, if there is something wrong and they tell you what it is, sit down with them and discuss it. Try to ask for their opinions and thoughts on what they think they should do to fix a problem. If they don't have an answer help them out a bit, but remember, it's important to make them feel like they are solving their problem and it's important to congratulate them and encourage them.
profile/6042IMG_20210317_185432.jpg.webp
Inani2021
Why Family Planning Is Essentially Important
Overview of Family Planning .
According to the Centers for Disease Control and Prevention (CDC), family planning is one of the 10 great public health achievements of the twentieth century, on a par with such accomplishments as vaccination and advances in motor vehicle safety (CDC, 1999). The ability of individuals to determine their family size and the timing and spacing of their children has resulted in significant improvements in health and in social and economic well-being (IOM, 1995). Smaller families and increased child spacing have helped decrease rates of infant and child mortality, improve the social and economic conditions of women and their families, and improve maternal health. Contemporary family planning efforts in the United States began in the early part of the twentieth century. By 1960, modern contraceptive methods had been developed, and in 1970 federal funding for family planning was enacted through the Title X program, the focus of this report.
This chapter provides an overview of family planning in the United States. It begins by explaining the importance of family planning services and the crucial needs they serve. Next is a review of milestones in family planning, including its legislative history. The third section provides data on the use of family planning services. This is followed by a discussion of the changing context in which these services are provided, including changes in the populations served by Title X, changes in technology and costs, the growing evidence base for reproductive health services, and social and cultural factors. The fifth section addresses the financing of family planning. The final section presents conclusions.
WHY FAMILY PLANNING IS IMPORTANT
According to the World Health Organization (WHO), family planning is defined as "the ability of individuals and couples to anticipate and attain their desired number of children and the spacing and timing of their births. It is achieved through use of contraceptive methods and the treatment of involuntary infertility" (working definition used by the WHO Department of Reproductive Health and Research [WHO, 2008]). The importance of family planning is clear from its benefits to individuals, as well as to families, communities, and societies (AGI, 2003). Family planning serves three critical needs: (1) it helps couples avoid unintended pregnancies; (2) it reduces the spread of sexually transmitted diseases (STDs); and (3) by addressing the problem of STDs, it helps reduce rates of infertility.
These benefits are reflected in the federal government's continued recognition of the contribution of family planning and reproductive health to the well-being of Americans. Responsible sexual behavior is one of the 10 leading health indicators of Healthy People 2010, a set of national health objectives whose goal is to increase the quality of life and years of healthy life. The Healthy People indicators reflect major public health concerns. The United States has set a national goal of decreasing the percentage of pregnancies that are unintended from 50 percent in 2001 to 30 percent by 2010 (HHS, 2000). The objectives for increasing responsible sexual behavior are to increase the proportion of adolescents who abstain from sexual intercourse or use condoms if currently sexually active, and to increase the proportion of all sexually active persons who use condoms.
The 2007–2012 Department of Health and Human Services (HHS) Strategic Plan is intended to provide direction for the Department's efforts to improve the health and well-being of Americans. The provision of family planning services promotes several HHS goals, including increasing the availability and accessibility of health care services, preventing the spread of infectious diseases (through testing for STDs/HIV), promoting and encouraging preventive health care, and fostering the economic independence and social well-being of individuals and families. The contribution of Title X to these goals is discussed in Chapter 3.1
Finding 2-1. The provision of family planning services has important benefits for the health of individuals, families, communities, and societies. There is a continued need for investment in family planning and related reproductive health services, particularly for those who have difficulty obtaining these important services.
Avoiding Unintended Pregnancy
The ability to time and space children reduces maternal mortality and morbidity by preventing unintended and high-risk pregnancies (World Bank, 1993; Cleland et al., 2006). Unintended pregnancy is associated with an increased risk of morbidity for the mother and with health-related behaviors during pregnancy, such as delayed prenatal care, tobacco use, and alcohol consumption, that are linked to adverse effects for the child. According to the Institute of Medicine (IOM) report The Best Intentions: Unintended Pregnancy and the Well-Being of Children and Families:
The child of an unwanted conception especially (as distinct from a mistimed one) is at greater risk of being born at low birth weight, of dying in its first year of life, of being abused, and of not receiving sufficient resources for healthy development. The mother may be at greater risk of depression and of physical abuse herself, and her relationship with her partner is at greater risk of dissolution. Both mother and father may suffer economic hardship and may fail to achieve their educational and career goals. Such consequences undoubtedly impede the formation and maintenance of strong families. (IOM, 1995, p. 1)
In 2000, approximately half of unintended pregnancies resulted in abortion (Finer and Henshaw, 2006); thus the availability and appropriate use of contraception can also reduce abortion rates (AGI, 2003).2 In addition to preventing unintended pregnancies, effective use of contraceptives (latex condoms) can reduce the transmission of STDs (see the discussion below).
When children are adequately spaced (with conception taking place no sooner than 18 months after a live birth, or about 2.5 years between births), they are less likely to suffer complications. Such complications include low birth weight, which is associated with a host of health and developmental problems (Conde-Agudelo et al., 2006). Low birth weight and premature birth are more likely to occur to women under 18 and over 35, and to those who have already had four or more births (WHO, 1994).
In addition to its maternal and infant health benefits, family planning can increase the involvement of partners in decisions about whether and when to have children. One of the most important aspects of helping people plan for pregnancy is helping them avoid unintended pregnancy. Couples who are able to plan their families experience less physical, emotional, and financial strain; have more time and energy for personal and family development; and have more economic opportunities (Cleland et al., 2006). In turn, effective family planning results in fewer strains on community resources, such as social services and health care systems (WHO, 1994).
According to the IOM report cited above, women are considered at risk of unintended pregnancy if they "(1) have had sexual intercourse; (2) are fertile, that is, neither they nor their partners have been contraceptively sterilized and they do not believe that they are infertile for any other reason; and (3) are neither intentionally pregnant nor have they been trying to become pregnant during any part of the year" (IOM, 1995, p. 28). Among the nearly 50 million sexually active women aged 18–44, 28 million (56 percent) are at risk of unintended pregnancy (Frost et al., 2008a). Given that the onset of sexual activity increasingly occurs before marriage, when the proportion of pregnancies that are unintended is greatest (see below), the highest proportion of women at risk of unintended pregnancy is found among those aged 18–29 (70 percent), although a significant proportion of women aged 30–44 (40 percent) are also at risk (IOM, 1995).
While significant advances have been made in contraceptive technology and the availability of family planning services, rates of unintended pregnancy in the United States remain high, particularly for certain segments of the population. In 2001, 49 percent of pregnancies were unintended, a rate that had not changed since 1994 (Finer and Henshaw, 2006). In 2001, unintended pregnancies resulted in 1.4 million births, 1.3 million induced abortions, and an estimated 400,000 miscarriages (Frost et al., 2008a). Notably, the United States has high rates of unintended pregnancy compared with other developed countries. For example, the percentage of unintended pregnancies in France is 33 percent and in Scotland 28 percent (Trussell and Wynn, 2008). Unintended pregnancies result in societal burden, and significant economic savings are realized through investment in family planning services. The Guttmacher Institute has estimated that every $1.00 invested in helping women avoid unwanted pregnancies saved $4.02 in Medicaid expenditures (Frost et al., 2008b).
A variety of factors contribute to unintended pregnancy, including lack of access to contraception, failure of chosen contraceptive methods, less than optimal patterns of contraceptive use or lack of use, and lack of adequate motivation to avoid pregnancy (Frost et al., 2008a). The reasons for the high rate of unintended pregnancies in the United States, particularly in relation to rates in other industrialized countries, are poorly understood. A better understanding of these reasons from the perspective of current, former, and potential users of family planning services is needed (see Chapter 5 for discussion of the need for better data collection systems to capture client perspectives).
Unintended pregnancy is most likely among women who are young, unmarried, low-income, and/or members of racial or ethnic minorities (see Figures 2-1 through 2-3, respectively), although it occurs in significant numbers across demographic groups (IOM, 1995). Teenagers and young adults aged 18–24 have the highest rates of unintended pregnancy—more than one intended pregnancy occurred for every 10 women in this age range, which is twice the rate for women overall (Finer and Henshaw, 2006). Unsurprisingly, unintended pregnancies represent the highest proportion of all pregnancies among teenagers and young adults as well, ranging from 100 percent for those under 15, to 82 percent among those aged 15–19, to 60 percent among those aged 20–24 (Finer and Henshaw, 2006). However, teenage pregnancy rates dropped 38 percent between 1990 and 2004, from 116.8 per 1,000 to 72.2 per 1,000 among those aged 15–19 (NCHS, 2008). The pregnancy rate dropped more sharply among teenagers aged 15–17 (from 77.1 per 1,000 in 1990 to 41.5 in 2004, a 46 percent decline) than among those aged 18–19 (167.7 per 1,000 to 118.6 per 1,000, a 29 percent decline). The teenage birth rate also declined over the past two decades, from a peak of 61.8 per 1,000 in 1991 to 40.5 per 1,000 in 2005, a 35 percent decrease. The birth rate among teenagers aged 15–19 increased 3 percent between 2005 and 2006, to 41.9 per 1,000 (NCHS, 2008). Teenage pregnancy rates are currently available only through 2004, but preliminary data suggest that there may also have been an increase in the teen pregnancy rate between 2005 and 2006 (The National Campaign, 2009
Admin Sponsored
Make money posting links on your social media
Generate passive income with your social media and whatsapp. Join Adsterra. Sign up is free
profile/6042IMG_20210317_185432.jpg.webp
Inani2021
The Importance Of Socializing
Socializing is essential for happiness.
L
???????? ???????????????????????????? ???????????????????? ???????????? ????????????????, ???????????? ????????????????.
Follow
???????????????? ???????????????????????????? ???????? ???????????????????????????????????? ???????? ???????????????????????? ???????????? ???????????????????? ????????, ???????????? ???????????????????????????????????????? ???????? ???????? ???????????????????????????????????????? ???????????? ???????? ???????????? ???????????????? ???????? ???????????????? ???????????? ???????????????????????????? ???????????????????????? ???????????? ???????????????? ???????????????? ???????????????? ???????????????? ????????????????????'???? ???????? ???????????? ???????????????????????? ????????.
First I'd like to clarify that everything I'm saying in this article is my own opinion, however, I am speaking from experience and I'd love it if you would read this article open-mindedly.
How my perspective of "friends" has changed.
Today I realized that being surrounded by the same people all the time isn't good for my well-being whatsoever.
I do wanna say that I used to be one of those people who think you could only have about three close friends. The rest I always looked at as "people I got to know very briefly". It wasn't until last year that that mindset of mine has totally shifted. I won't go into detail about this but if you'd like to know more about it, make sure to let me know. :) However, now I can say that I know a lot of people and the quanitity of my friends has probably doubled in size this year.
Why changing your environment is important.
You have to socialize with different kinds of people in order to find out more about yourself and broaden your horizons. People with different characteristics, behaviors, perceptions. Not only does it make them happy to spend time with you, but it makes every participant grow as a person as well.
I realized that today because I was texting with a friend of mine about this project we're currently working on and I started to realize how hard it was for me to concentrate because that has been my routine for the last couple of days. He asked me if I was okay, which led to an in-depth deeptalk about changes in life that I really enjoyed.
How do you do it?
Start slowly. Hang out with your locals, people in your class for example. If you don't like them, maybe go and text people you haven't catched up with in a while. Meet up with them, maybe have a cup of coffee or hot chocolate or tea. It might be terrifying at first, but trust me, as soon as you get used to it, you might even enjoy the process. :)
You can also text people on social media, that's what I did once as well. Now I'm invited to a birtday party in December where I barely know anyone. Am I scared? Yeah. Will I go anyway? Of course.
Get inspiration.
Books, movies, series. They sometimes show you this pretty perfect picture of friendships which can make you feel lonely. Use that and make it inspire you to create a life like that for yourself, you deserve it.
Spending time alone and saying no is just as important.
Do not forget that you have to take care of yourself too. It's okay to take some rest if it all gets a little too much. At the end of the day, we're all human just trying to get along in this one lifetime that we have.