business
profile/7498temp_profile_image551957892.jpg
Kuryliuk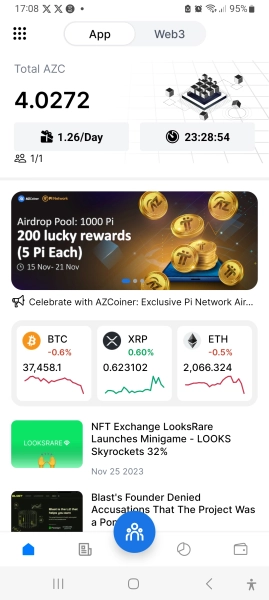 Did you missed BNB Coin of Binance Exchange and OKB Coin of Okx Exchange???🤔🤔🤔🤔
Then don't dare to miss AZC Coin of AZCoiner Web3 Exchange which the Airdrop is currently running 💥💥💥💥and will end by 3rd December 2023
https://azcoiner.com/invite?user=pkuryliuk12
Already in partnership with Omega & CoinGecko & Pi Network which signifies it's legitimacy
-Register through the below link using my Referral Code: emmaconnect to get free $4 AZC instantly👇👇👇👇👇👇
https://azcoiner.com/invite?user=pkuryliuk12
Invitition code: gvowealth22
-Login with your email
Enter Referral Code: pkuryliuk12
-Click To Homepage >Click Start Airdrop to start mining
https://azcoiner.com/invite?user=pkuryliuk12
Just one-click in a day (24hrs session)
profile/7498temp_profile_image551957892.jpg
Kuryliuk
Sidra Bank Airdrop
1 Sibra =525$
Join here:
https://sidra.ws/SQ5jdAjqcm
- Verify E-mail
- Click Mine
- Go Profile And Add Invitee Email
pkuryliuk@gmail.com
Admin Sponsored
Make money posting ads on your blog
Generate passive income with your blog, website or social media. Join Adsterra
profile/9802llo_20230401_103510.png.webp
Lele
Fresh Naira Scarcity Hits Kano, Sokoto, Edo, Others - Business
Fresh Naira Scarcity Hits Kano, Sokoto, Edo,
Fresh Naira scarcity hits Kano, Sokoto, Edo, others
23rd November 2023
Despite recent assurances by the Central Bank of Nigeria that there is enough naira in circulation, reports of scarcity have emerged across the country.
A survey by The PUNCH, on Wednesday, confirmed scarcity in some parts of Abuja, Lagos, Kano, Kwara, Gombe, Edo, Sokoto, and Ekiti States. Many bank customers and Point of Sales operators, who spoke to The PUNCH, lamented that it is becoming a challenge to access cash for their economic activities.
This is coming weeks after the apex bank affirmed that it has enough currency notes in the market and hence no need for panic withdrawals by members of the public.
In a circular titled 'All Banknotes Issued by the CBN Remain Legal Tender,' signed by Director, Corporate Communications, Isa AbdulMumin, the bank stated that it was aware of reported scarcity of cash across some major cities. It noted that there have also been concerns among some members of the public over the legality of old naira notes.
So This Happened (221) Reviews Recent Naira Fall, Tuition...
The bank said, "For the avoidance of doubt, while reiterating that there are sufficient banknotes across the country for all normal economic activity, we wish to state unambiguously that every banknote issued by the Central Bank of Nigeria (CBN) remains legal tender and should not be rejected by anyone, as stipulated in Section 20(5) of the CBN Act, 2007."
It cautioned members of the public to avoid panic withdrawals and stressed that it has enough currency notes to facilitate normal economic activities.
The concern from members of the public over the legality of old naira notes is connected to issues surrounding the naira redesign policy of the apex bank.
In October 2022, the former CBN governor, Godwin Emefiele, announced a plan to redesign some naira denominations (N200, N500, and N1000 notes) and reduce currency circulation. He also stated that the old versions of the redesigned notes will lose their legal status by January 31, 2023.
The plan was met with resistance and state governments dragged the apex bank to the Supreme Court on February 3, requesting for an extension of the deadline. By March 2023, the apex court invalidated the new naira design policy and extended the validity of the notes until December 2023.
Recently, the CBN announced plans to extend the validity of the old N200, N500, and N1,000 notes indefinitely. The bank noted that it was working with relevant authorities to vacate the subsisting court ruling on the same subject. A recent report in local media confirmed that the CBN has filed an application before the Supreme Court seeking an extension for old naira notes to remain in circulation.
According to a report from the CBN, the currency in circulation increased by 3.75 per cent to N2.76tn in September 2023.
Naira scarcity resurfaces in Lagos
However, cash scarcity, a major downside of the CBN's naira redesign policy, has begun to resurface. Visits to some banks on Wednesday revealed scanty banking halls and ATM galleries.
A customer, who gave his name as Ganiyu Tunde, at the Union Bank branch along Oshodi Expressway in Lagos claimed that banks were only dispensing N5,000 via ATMs to non-customers.
Bank customers of Union Bank were, however, able to get up to N20,000 at the ATM and inside the bank. The rows of ATMs at an Access Bank branch nearby were empty because there was no cash in them as of the time of filing this report. A banker who spoke to The PUNCH on the condition of anonymity blamed the cash scarcity on weak supply from the CBN.
The banker said, "It is the CBN that is responsible for this cash scarcity. We are not getting enough from them. They are just causing unnecessary suffering for the masses."
A bank teller who works with Guaranty Trust Bank Plc in their Palmgrove Branch, Lagos, affirmed to The PUNCH that customers are not allowed to withdraw more than N20,000.00 across the counter. According to the teller, the bank was experiencing a shortage of cash.
The PUNCH noticed that not all banks are experiencing shortages of cash. For instance, Union Bank's Isolo branch showed no signs of scarcity. A staff member, who only gave her name as Ope, said, "You can withdraw money if you want. I have heard something like that, but we are dispensing funds."
At Access Bank Oshodi branch, customers were observed withdrawing cash from ATMs outside the banking hall, with a bank staff member adding, "There is cash. Everybody is withdrawing."
Scarcity hits Abuja, Kano, Kwara, Sokoto, Ekiti
A respondent in the Federal Capital Territory, Festus Okoromadu, was concerned that he could not withdraw at the First Bank branches in his area.
He said, "What I was told was that the bank's network was temporarily unavailable, which made the transaction impossible. This has been the case at some of the banks in the FCT in recent times, withdrawing money is becoming more challenging."
In Kano, some commercial banks were not honouring withdrawal requests from customers, and ATM galleries were dry when The PUNCH visited. Our investigation further showed that the few banks that were paying customers did not give beyond certain amounts.
A customer who simply gave his name as Hayatudeen said, "Many banks lack money to give to customers and when you inquire, they will not give you any satisfactory explanation as to why."
He noted that the story is the same with POS operators because they are also complaining of scarcity. He added, "Even though most of the POS operators are getting their money from traders and other business operators, they still complain of the scarcity."
He further alleged that many POS operators have increased their charges by about 50 per cent.
In Kwara, banks are rationing cash to their customers. The PUNCH gathered that some commercial banks are not allowing customers to withdraw more than N20,000 daily from their accounts.
Customers of Zenith Bank have it differently, they are still allowed to make daily withdrawals of up to N500,000. Further investigations revealed that this scarcity started three weeks ago and customers of UBA, GTB, First Bank, Union Bank, and others are the worst hit.
This scarcity also extends to customers who want to withdraw at ATMs, as they are not allowed to withdraw more than N20,000 daily from one account. Some of the bankers who spoke to The PUNCH noted that customers are no longer bringing in a lot of cash to save in their accounts leading to the shortage of cash.
One banker said, "Banks do not have enough cash to pay out to customers because people are not bringing money to the bank.
"We only ration the available money among the customers. Anyone that comes to withdraw is paid N20,000 but few highly placed customers are given N50,000 when they come to withdraw."
In Ekiti State, an official at the Union Bank branch, Okesa Ado Ekiti, revealed that the branch was unable to meet the specific withdrawal demand of its customers because "there is no sufficient cash for now. We give what we can afford to ensure it goes around."
A bank customer of one of the First Bank branches in the capital city, who only identified herself as Tope, lamented, "I do not know exactly what the problem is, but no customer was able to get more than N10,000 – N20,000 in the bank hall. I learnt it was the same story at their ATMs in the bank."
At the ATM points of Wema Bank, Okesa area, bank customers with Wema Bank ATM cards could withdraw N20,000. Customers with ATM cards from other banks could only withdraw N10,000.
In Sokoto State, a resident, Kabiru Nura, told The PUNCH, "Even though the issue is becoming more relaxed the scarcity is still very much with us. The funniest part is at ATMs, you hardly get cash at ATMs these days. The last time this happened was during the naira redesign policy, and this should really be a thing of the past now."
Edo, Gombe PoS operators bemoan naira scarcity
Point of Sale operators in Gombe State are worried about the resurging naira scarcity in the state. Adamu Salisu, who operates a stand in the Bagadaza area of the state, said, "All of a sudden, we cannot get free access to lump sum of cash. I and some of my colleagues now rely on traders in the market who get some cash from transactions to remain in business."
Also speaking, Sandra James, a resident in the state, continued, "Many people prefer to do transfer through phone as just a few have access to funds. It is sad."
Another PoS operator, Mohammed Rafi, added, "We are going through so much stress to get money to give customers, but customers are complaining because we have increased our charges as we had previously done during the early part of the year."
In Edo, POS operators, store owners, and bank customers lamented their inability to get cash to The PUNCH.
A POS operator, who only gave her name as Faith, declared that cash is scarce in Benin as banks now ration the amount that can be withdrawn at the ATMs.
She said, "I noticed that the scarcity of cash began late last week. You can only get N20,000 from your bank's ATM and those who come with other banks' ATM cards may get N10,000. They also refuse to pay across the counter while you can get N10,000 if you are lucky.
"I also observed that the money they put in the ATM is not always enough and they (bankers) also come out to withdraw most of the cash. They (bankers) also do deals with big-time PoS operators, so it has been difficult for small-time operators to do business.
"What I do now is to get cash from a friend who sells on Lagos Street."
A trader, Grace, who runs a shop on Sapele Road, added, "I have noticed that cash is in short supply and most people who buy from me either transfer or pay through my PoS. However, it has not affected business, which is a good omen.
We are unaware of scarcity — Bank customers association
According to the President of the Bank Customers Association of Nigeria, Dr Uju Ogunbunka, members have reported any such issues with cash withdrawals.
He said, "This news surfaced a few weeks ago, and some of the banks I visited gave out cash to their customers. If there is a limitation at all, then it means something is driving it. But I see no reason because there is no issue regarding whether it's new notes or old notes; that problem has already been resolved. But if anything is driving this report, I think we need to find out.
"Maybe they want to encourage online banking and things like that. But I don't think there is anything like a cash squeeze now. I will try to visit some banks and see for myself. The information I have now doesn't suggest anything like a cash squeeze."
The National President of the Association of Mobile Money and Bank Agents in Nigeria, Victor Olojo, added that more needs to be done in terms of increasing alternatives to cash.
He told The PUNCH, "The CBN hardly has control of the whole cash issues, and they need to be very clear on if it is the old currency we are using or the new, they are the custodian of our currencies. However, we as a country are on a good trajectory. In terms of raising other channels of payments, more needs to be done."
profile/92281689400938659.jpg.webp
Ajibola33
Simple Ways To Keep Your Accounts Active When Deletes Inactive Accounts
https://www.pqrmedia.com/2023/11/simple-ways-to-keep-your-account-safe.html?m=1
profile/92281689400938659.jpg.webp
Ajibola33
Simple Ways To Keep Your Account Active As Google Deletes Inactive Accounts
https://www.pqrmedia.com/2023/11/simple-ways-to-keep-your-account-safe.html?m=1
profile/92281689400938659.jpg.webp
Ajibola33
S
https://www.pqrmedia.com/2023/11/simple-ways-to-keep-your-account-safe.html?m=1