profile/3227ExvBC6HWUAIkBUG.jpg.webp
White1345
Nigerian Doctors Who Separated Conjoined Twins Set To Be Honoured
The world is set to honor the Nigerian medical doctors credited to have separated the Conjoined twins at the National Hospital, Abuja in November 2020. The festival, which is the World Twins Festival is scheduled to hold between October 3-9, in the ancient town of Igba-Ora, Oyo State. The Festival is tagged "Twinning for Medical Breakthrough".
It should be recalled that the group of medical doctors was a 78-member team, led by a Pediatrician, Dr. Emmanuel Ameh. The Siamese twins separated borne by a cesarean section (surgery) in, August 2018. They were conjoined at the chest and abdomen. The surgery which took 13-hours was performed on November 14, 2020. It was delayed two years after their birth to avoid complications that may arise due to their fragility.
Dr. Ameh who led the team said Plastic surgeons were also included in the team as they were necessary to repair the areas that were torn and also create artificial skin to cover up those that were at risk of getting infected.
The twins were the first to be separated in the National Hospital and the Hospital's spokesman, Dr. Tayo Haastrup could not but express his impression:
"We are just happy and proud that the team that worked on this surgery were all Nigerians doctors. It was done in Nigeria and the parents didn't have to go outside the country," he said.
The Medical Director of the hospital, Dr. Jah Momoh also said the Surgical procedure was performed for free as the family could not afford to pay. In his words:
"My attention was drawn to their inability to pay for such an expensive medical procedure so we assessed their status and classified them as indigent. We funded their care and major surgeries that separated them. We also ensured that the lack of funds did not stop the beautiful twins from enjoying their lives independently, "he said.
Indeed, this team of doctors deserve to be honored!
Thanks
profile/1212download1.jpeg
Abel
Eating "Fast Foods" But In A Healthy Way
With today's hectic lifestyles, most of us end up eating out at least once a week. That could mean grabbing a sandwich from the supermarket deli counter for lunch, ordering take-out for dinner, or splurging on a special meal at a favorite restaurant.

Meals away from home make it harder to control ingredients, calories, and portions. This can be particularly challenging for people with Type 2 diabetes (and for those of us trying to avoid getting this condition). The following tips can help you enjoy eating out without abandoning your efforts to eat well.

Ask how the food is prepared.

Before you order, ask about ingredients and how the menu selections are prepared. Try to choose dishes made with whole grains, healthy oils, vegetables, and lean proteins. Meat that has been broiled, poached, baked, or grilled is a more health-conscious option than fried foods or dishes prepared with heavy sauces.

Look for less.

Your eyes are the perfect instrument for sizing up portion sizes. Use your estimating techniques to size up the food on your plate.

1 thumb tip = 1 teaspoon of peanut butter, butter, or sugar

1 finger = 1 oz. of cheese

1 fist = 1 cup cereal, pasta, or vegetables

1 handful = 1 oz. of nuts or pretzels

1 palm = 3 oz. of meat, fish, or poultry

Plan on eating half your meal and take the rest home to enjoy for lunch or dinner the next day.

Order an extra side of veggies.

Non-starchy vegetables, such as green beans, broccoli, asparagus, or summer squash, will help you fill up with low-calorie choices.

Think ahead.

Learn important nutrition information ahead of time. Most fast-food chains provide calories, sodium, and fat content for their menu items.
Admin Sponsored
Make money posting ads on your blog
Generate passive income with your blog, website or social media. Join Adsterra
profile/6679IMG_20200607_071051_959.jpg
Abbeyola
YOUR CASE IS DIFFERENT
OPEN HEAVENS DAILY DEVOTIONAL
DATE: WEDNESDAY 23RD DECEMBER 2020.
THEME: YOUR CASE IS DIFFERENT.
MEMORISE:
A thousand shall fall at thy side, and ten thousand at thy right hand; but it shall not come nigh thee. Psalm 91:7
READ: Psalm 91:1-16
1 He that dwelleth in the secret place of the most High shall abide under the shadow of the Almighty.
2 I will say of the Lord, He is my refuge and my fortress: my God; in him will I trust.
3 Surely he shall deliver thee from the snare of the fowler, and from the noisome pestilence.
4 He shall cover thee with his feathers, and under his wings shalt thou trust: his truth shall be thy shield and buckler.
5 Thou shalt not be afraid for the terror by night; nor for the arrow that flieth by day;
6 Nor for the pestilence that walketh in darkness; nor for the destruction that wasteth at noonday.
7 A thousand shall fall at thy side, and ten thousand at thy right hand; but it shall not come nigh thee.
8 Only with thine eyes shalt thou behold and see the reward of the wicked.
9 Because thou hast made the Lord, which is my refuge, even the most High, thy habitation;
10 There shall no evil befall thee, neither shall any plague come nigh thy dwelling.
11 For he shall give his angels charge over thee, to keep thee in all thy ways.
12 They shall bear thee up in their hands, lest thou dash thy foot against a stone.
13 Thou shalt tread upon the lion and adder: the young lion and the dragon shalt thou trample under feet.
14 Because he hath set his love upon me, therefore will I deliver him: I will set him on high, because he hath known my name.
15 He shall call upon me, and I will answer him: I will be with him in trouble; I will deliver him, and honour him.
16 With long life will I satisfy him, and shew him my salvation.
MESSAGE:
When the RCCG was to be established in Israel, a diplomat there warned "They will never register any Pentecostal church. Not only is RCCG Pentecostal, it is a Nigerian church, so just forget it." I insisted" No sir, we will not forget it. Just submit our application and then let's leave the rest to God."
For courtesy's sake, he took the letter and submitted it. To God's glory, a few weeks later, we got our proof of registration. Many years later, we needed permission from the government for a project. We were told we could not be permitted since we were Pentecostal Church, and not registered. They were surprised when we went back with our proof of registration. These only happened because our case is different.
In 1974, a little while after I had submitted my PhD thesis at the University of Lagos, I went on a Crusade at Ilesha and Ifewara while waiting to be called for the compulsory oral exam. While I was there, the Head of my Department gave my thesis to the External Examiner. Ordinarily, he should have posted it, but he took it in person, insisting on waiting until the Examiner concluded his assessment. As a result, the Examiner was compelled to read my thesis promptly. When he was done, my HOD asked "When is the date for the exam?" to which he replied "I have no questions; give him his Ph.D." In the history of the world, I may be the only one with a Ph.D who did not do an oral exam. Only because my case is different.
From today, doors will open everywhere you turn. While others may be cast down, you shall experience a lifting. Nothing will be impossible for you. From today, anywhere you go, anything you touch or intend to do shall be treated as different in a positive way by the grace of our Lord Jesus Christ. Your case is different because the Lord has chosen you. 1 Peter 2:9 says:
"But ye are a chosen generation, a royal priesthood, an holy nation, a peculiar people; that ye should shew forth the praises of him who hath called you out of darkness into his marvellous light;"
PRAYER POINT:
Father, make me Your special child so that in everything I do, my case will be different positively, in the mighty name of Jesus.
BIBLE IN ONE YEAR: 2 Timothy 1-4
AUTHOR: PASTOR E. A. ADEBOYE
HYMN 12: I AM THINE OH LORD.
1. I am Thine, O Lord, I have heard Thy voice,
And it told Thy love to me;
But I long to rise in the arms of faith
And be closer drawn to Thee.
o Refrain:
Draw me nearer, nearer blessed Lord,
To the cross where Thou hast died;
Draw me nearer, nearer, nearer blessed Lord,
To Thy precious, bleeding side.
2. Consecrate me now to Thy service, Lord,
By the pow'r of grace divine;
Let my soul look up with a steadfast hope,
And my will be lost in Thine.
3. Oh, the pure delight of a single hour
That before Thy throne I spend,
When I kneel in prayer, and with Thee, my God
I commune as friend with friend!
4. There are depths of love that I cannot know
Till I cross the narrow sea;
There are heights of joy that I may not reach
Till I rest in peace with Thee.
profile/1719Screenshot_20210108-143233.jpg
Mirabel72
5 Months After The BBN Show, See Photos Of The 20 Contestants
profile/4012tmp-cam--814284577.jpg
Elvis21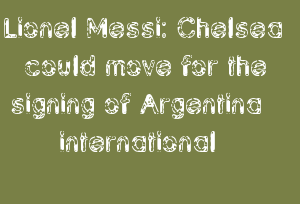 Lionel Messi: Chelsea Could Move For The Signing Of Argentina International
Premier League giants Chelsea have been named as another big club who could be making a move to sign Barcelona legend Lionel Messi at the end of the 2020/21 League season.
Lionel Messi has been playing for Barcelona since 2004 and the Argentina international has won all the important trophies at the Nou Camp.
But there was an issue after the end of last season in which the Argentine submitted a transfer request to leave Barcelona after the side suffered an embarrassing defeat in the Champions League.
Messi's father flew to Spain to have discussion with Barcelona chiefs before his son agreed to play finish his current contract with the Catalans.
Jubilation for Messi as Barcelona presidential candidate names 2 players he will sign if elected
According to Spanish football expect Guillem Balague, Chelsea could be among the clubs to chase Messi's signature.
"Chelsea are definitely in the equation if Messi becomes available. That is true. Chelsea will insist they want to hear everything that is going on."If they have the money they will want to be involved too. Remember, there is no transfer fee."
Meanwhile, Chelsea are currently occupying third position on the Premier League standings with 18 points after nine games played so far this term.
profile/7689IMG_20200622_115101_801.jpg
Kemmy1stlady
GIVING...... A VIRTUE 2
GIVING...... A VIRTUE 2
WHY GIVE?
When people are asked why they give, the readiest answers includes, God want me to; I feel better about myself ; others need, and I have; I want to share;it's only right. The question I would asked is how did you feel? I imagine you felt very pleased with yourself and happy inside.
It has been my experience that when you're focused on giving to others you're less likely to become consumed by your own concerns and challenges. Giving provides an opportunity to look beyond our own world and see the bigger picture.
A great perspective can be achieved by stepping out of our own world and venturing into the world of other people. Your worries and challenges may not seem as significant when compared to other people's situations.
The act of giving Kindles self-esteem and brings happiness. Scientist have discovered that happiness is related to how much gratitude you show, After several years of soul searching, I discovered that my unhappiness was due to my want for things to fill the void of loneliness.
My search for inner happiness led me towards gratitude, during this process of self- realisation, I also discovered "THE PURPOSE OF LIVING"
yes, I believe that giving makes me happier, but don't take my word for it- try it out yourself.
THE POWER OF GIVING AND THE JOY OF HELPING OTHERS
Giving is one of the the best investment you can make towards achieving genuine happiness. True giving comes from the heart with no expectation of reciprocation.
You'll find that the more you give, the more you'll receive. The power of giving is manifested in the kindness and generosity that you bestow on someone else. When you give to another unselfishly, the vibration enerygy emitting from your subconscious is at it's strongest.
The power of giving, according to neuroscience, is that it feels good. A Chinese Proverbs says; "if you always give, you will always have". A famous American author and management expect, Ken Bianchard, declared " The more I give away, the more comes back. If you find yourself feeling unhappy try making someone else happy and see what happens, if you're feeling empty and unfulfilled, try doing some meaningful and worthwhile work and see how you feel, The catch is that you must do this work(giving) with passion and enthusiasm.
To be continued......
#giverssecrets#
#kemmy1stlady#
#mydesk#