profile/6679IMG_20200607_071051_959.jpg
Abbeyola
SUPPORT MISSIONARIES
OPEN HEAVENS DAILY DEVOTIONAL
DATE: FRIDAY 18TH DECEMBER 2020
THEME: SUPPORT MISSIONARIES.
MEMORISE:
How beautiful upon the mountains are the feet of him that bringeth good tidings, that publisheth peace; that bringeth good tidings of good, that publisheth salvation; that saith unto Zion, Thy God reigneth! Isaiah 52:7
READ: 3 John 1:5-7
5 Beloved, thou doest faithfully whatsoever thou doest to the brethren, and to strangers;
6 Which have borne witness of thy charity before the church: whom if thou bring forward on their journey after a godly sort, thou shalt do well:
7 Because that for his name's sake they went forth, taking nothing of the Gentiles.
MESSAGE:
"And let us not be weary in well doing: for in due season we shall reap, if we faint not." Galatians 6:9
As we pray for and bless the Shepherds around us with gifts, let us not forget those in hostile and war-torn communities too.
It is not God's will for missionaries to be abandoned while wealthy Christians enjoyed His blessings in the urban centers. Usually, these gospel crusaders risk their lives, having left their cities and families to do God's work in places most of us would not consider going to. This is why we must support them with both our prayers and resources.
You can commit a certain percentage of your monthly income to support a missionary group. What you consider negligible could go a long way to ease their burden. A constant supply of food and amenities for their communities would make their audience more receptive, while also giving them some influence even amongst the rulers of the land.
When Christians missionaries first arrived Nigeria, their work was easy because as they came with Bibles, they also brought education for the children and medicines for the sick. If they hadn't succeeded, perhaps many more of us would have been involved in rituals today.
Modern Christians have not supported mission trips as much as in the past, thus, allowing the devil spread his message of perversion like wildfire.
Those who would have loved to be missionaries hold back because of the fear that no one would remember them. Some have left the mission field, not for their sakes, but for their children's. A little help could reverse the trend. You may not be able to go to the field but you can also win souls to God with your resources and prayers. Don't miss this opportunity. Support missionaries today.
KEY POINT:
If you cannot go on mission trips, at least support those who do.
BIBLE IN ONE YEAR: Titus 1-3
AUTHOR: PASTOR E. A. ADEBOYE
HYMN 9: HOLD THE FORT.
1. Ho, my comrades, see the signal, waving in the sky!
Reinforcements now appearing, victory is nigh.
o Refrain:
"Hold the fort, for I am coming," Jesus signals still;
Wave the answer back to Heaven, "By Thy grace we will."
2. See the mighty host advancing, Satan leading on;
Mighty ones around us falling, courage almost gone!
3. See the glorious banner waving! Hear the trumpet blow!
In our Leader's Name we triumph over every foe.
4. Fierce and long the battle rages, but our help is near;
Onward comes our great Commander, cheer, my comrades, cheer!
profile/9013FB_IMG_15957668256075020.jpg
Zakariya5051
5 Words Of Wisdom For Men
5 Wisdoms For Men - Reno Omokri (Photo)
gtalker
Jan 8, 2021 11:17 PM
According to a very wise saying "Wisdom is profitable to direct." Such wisdom regarding men has been shared by Reno Omokri today via his official verified Twitter Handle, which he does as usual. The amazing lawyer has once again given out his time to share some knowledge and marriage tips for men and Twitter users.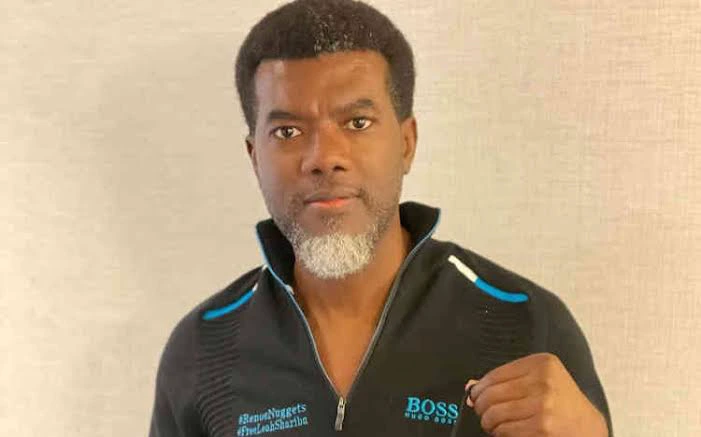 See the tweets screenshot below: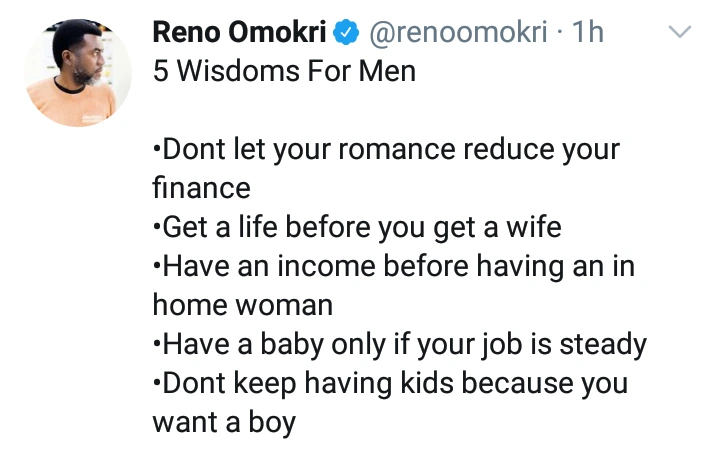 1. Don't let your romance reduce your finance - this is Reno Omokri helping men understand that having too much romance with different women can reduce your finance as a man and ploy you unto poverty.
2. Get a life before you get a wife - Before thinking about marriage, get a life. This simplifies that you get a job, have a career, and working plans before considering marriage.
3. Have an income before having an in-home woman - This means you should have enough cash before having a woman who stays with you in the home because children will eventually come and she is your responsibility.
4. Have a baby only if your job is steady - have kids when your job or business is steady, and don't just make babies because you want a child.
5. Don't keep having kids because you want a boy - This is the mindset of so many men in our society today. The urge for a male child keeps pushing them to want to have children and eventually have more than they can care for. This should be discouraged at all costs.
However, see the reactions of Twitter users regarding Reno Omokri post: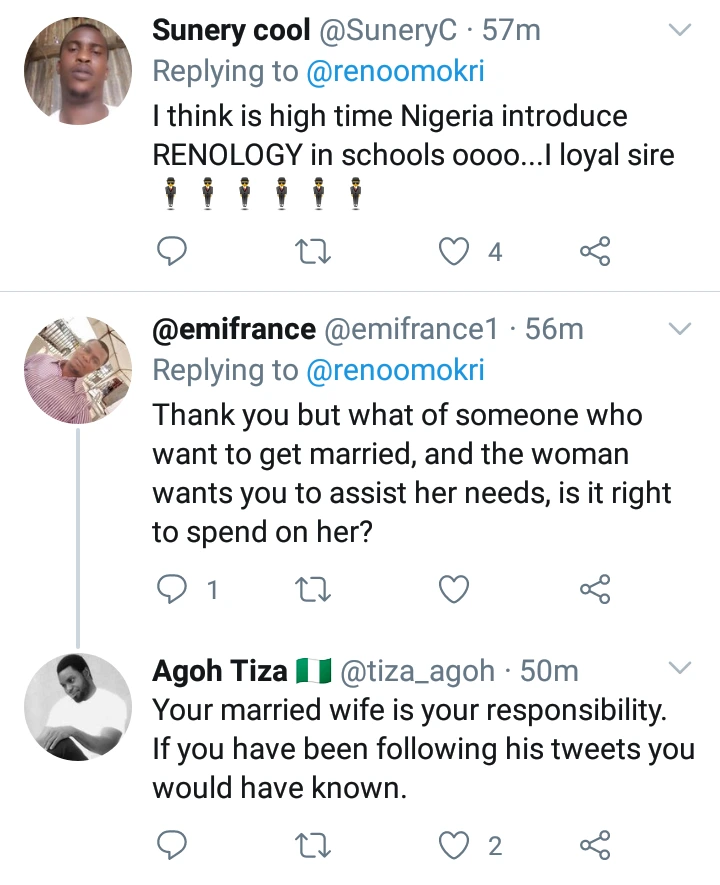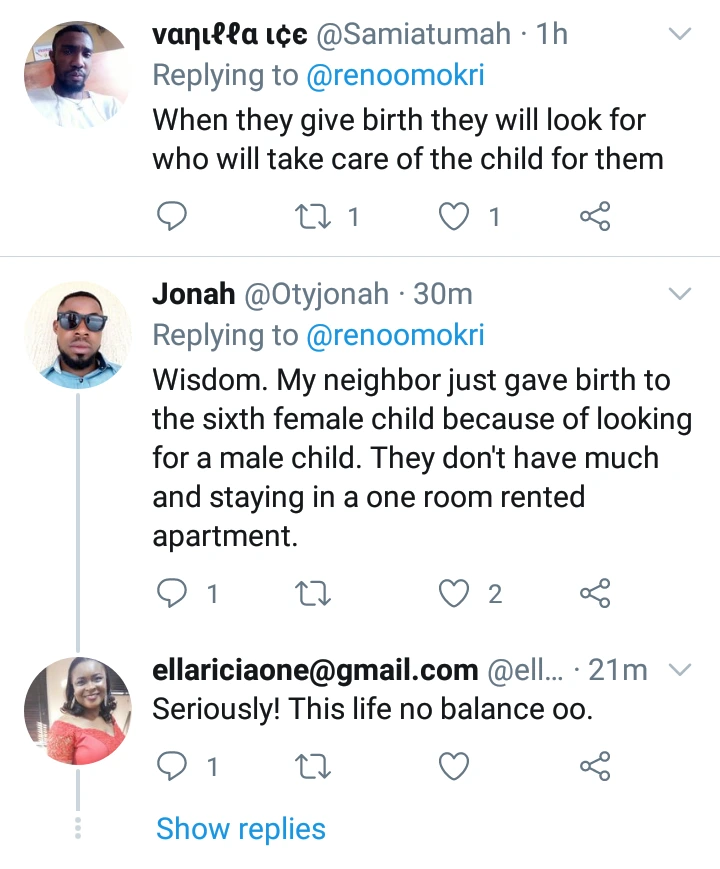 What do you have to say about the 5 wisdoms for men shared by Reno Omokri, the lawyer? Drop your comments and follow back for more updates.
Admin Sponsored
Make money posting ads on your blog
Generate passive income with your blog, website or social media. Join Adsterra
profile/3073IMG_20200914_113434_467.jpg
Succjay
10 Fun Things To Do In Abuja This Christmas: A 2020 December To Discover
10 FUN THINGS TO DO IN ABUJA THIS
CHRISTMAS: A 2020 DECEMBER TO
DISCOVER.
Abuja is the capital city of Nigeria and considering the fact that it is located right in the heart of the nation, it ought to be the energizing pulse that drives experiences to other parts of the state.
However, this metropolitan area has not exactly lived up to expectation for years and had instead been known to be rather uninteresting and lonely-
hence allowing Lagos become centre stage for fun and vibrant activates, particularly in the festive seasons.
Now, that time of the year is upon us - when
families in Diaspora, gather home from all parts of the world and friends reunite; for a time of refreshment-psychologically, spiritually and emotionally-looking forward to fun engagements that speak to their roots, and seeking emphatically - "New Experiences". The question is, what new thing does Abuja have to offer them?!
Look no further!
The Discovery Park has launched to give us an experience of a lifetime-First of its kind in the Federal Capital Territory, Perhaps the most exhilarating of this discovery is the fact that visitors get to experience so much adventure in ONE place! The Discovery Park Abujais a ground of wide-ranging escapades; waybeyond parks and squeaky rides. At the discoverypark this December, visitors would experience and witness technology in a new dimension, food and service like never before! Adventurous activities, Augmented and virtual Reality, discounted shoppingsprees, and so much more.
Here are10 things you can do at the Discovery Park in Abuja this December:
A visit to The Discovery Museum - The first of its kind museum - "Discovery Tech Museum" found within this Discovery Park is an interactive technology museum where guests get to experience the disruptive use of technology in telling stories, and preserving history in the most unconventional ways.
The Christmas Village Experience – Get right into the Christmas spirit at the Discovery Park's "Christmas city" with fun characters like, Santa and his Elves; as well as carefully decorated pop up shops therein. This well "LIT" Christmas city would make you feel like you're in some type of Christmas wonderland.
Tallest Christmas tree - Come have a full Christmas experience while enjoying the view of the tallest Christmas tree in Abuja. Such an amazing view; you'll have to whip out your phones!
Lagos in Abuja - Looking for a feel of Lagos in Abuja? You're welcome to sit and enjoy the vibe the Lagos bistro emits to its guests. Come feel the vibrancy of the city of Lagos in this amazingly decorated experiential restaurant space located within a section of the Discovery Park. Image
Play Box Gaming Centre - You get to experience a one of a kind immersive gaming technology at the Play box, home to all kinds of gamers where you get to enjoy the latest PS5 consoles, X box "x series" as well as VR car racing and boxing ring games. This Christmas, the play box would be hosting several gaming tournaments you don't want to miss. Image
Image
Uncut VR Experience - This year was pronounced Virtual Reality make or break year and it's so exciting to know that right here in Abuja, VR made it to the list of experiences that are available to you and your family- without having to break the bank. Image
Try out The Best Grill in Abuja - Perhaps the best grilled food Abuja has seen, guests of the "Grill Monsters" get to experience a burst of flavours as they partake in the masterpiece done right before their eyes.
Explore the Children's Museum - The Kids museum is an experience centre where kids can be anything (profession) they want for a day. Here there are availed the use of technology to learn about their country and interact with one another even at the well designed kiddies restaurant.
Image
Image
Participate in a Photo Contest – Home to the biggest photo frame and lovely wall murals. Guests get to win special gifts for taking the best pictures at the Discovery Park Abuja this Christmas. Image
One stop Gift Shop - Stop by the in-house gift shop at the Discovery Park to find the best gift items for you and your loved ones.
The discovery park Abuja holds all the fun things to do this December and pretty much forever as it has come to stay; right in the heart of Abuja, to Entertain, enlighten and expose you, you and of course You reading this right now.
You'll be surprised we might have just helped you find your new favourite place in Abuja!
https://www.instagram.com/discoveryparkabuja/
Watch video here:
https://www.youtube.com/watch?v=LQnMTKXdsoY
profile/455images-1.jpeg
Efelexy
MARRY YOUR MATE.
MARRY YOUR MATE By Apostle Joshua Selman__✍️
SIX MATES YOU SHOULD MARRY;-
One of the ways your marriage will not add to the rate of divorce in our world today is for you to marry your mate and if you are married already, make your spouse your mate!
You see that statement of ' Am I your mate?' does not apply in marriage. You must marry your mate. I will like to talk on seven dimensions you and the person you want to marry or you have married must be mate.
1. MARRY YOUR SPEAKING MATE: Marry someone you can speak together and understand each other. Communication is very crucial in marriage. Don't marry someone that, when you are saying 'A' he or she will be saying ' Z' Once there is dichotomy in your speaking and understanding level, you can't enjoy that marriage. So many men go to bar to hang out with friends and gist till 11pm because they know their wives can't engage in any meaningful intellectual discussion. So many women too prefer to hang out with their friends, because they know their husbands mentality when it comes to vital issues and discussions is very low. Marry your speaking Mate.
2. MARRY YOUR SCHOOL MATE:
By this I mean, marry someone you can learn together and improve together. Don't marry ' Mr Know all' or 'Miss Know all'. Don't marry someone who is rigid and not open to new ideas, new ways of doing things, or new innovations. Marriage is a great institution. From day one till death do you part, you will keep learning. Marry your 'school' mate; someone who is ready to learn with you.
3. MARRY YOUR SPIRITUAL MATE: Marriage is not just a social union. It is also a spiritual union. Marry someone who knows the same God you know. Don't marry someone who's believe of God is different from yours. Two can't work together except they be agreed ( Amos 3:3, Joshua 23: 11-15, 2 Corinthians 6:14-18). The spiritual controls the physical, even in marriage. Check for spiritual compatibility in that person you want to marry.
4. MARRY YOUR SPENDING MATE: Don't marry someone who is stingy. There are so many expenses to cater for in marriage. A stingy guy in courtship won't suddenly become a generous husband in marriage. Don't marry a lady that has the financial philosophy of ' My husband's money is our money, but my money is my money'. Marry someone who believes in dignity of labour , who is ready to work, not a lazy fellow who just want to be a consumer and not a contributor. Marry someone who is ready to spend and be spent for the growth and success of the family.
5. MARRY YOUR SEX MATE: Marry someone you have sexual feelings for. Sexual feeling is not a sin. It is an instinct God put in every person. Sex plays a major role in the success of any marriage. Any man you don't have emotional feelings for, don't marry the person. If you don't have emotional feelings for that lady, leave her alone. A spiritual being is also a sexual being. No matter how spiritual you both may be in your marriage, you won't be praying for 24 hours in a day. You won't be reading the Bible or worshipping God 24/7. You will have sex! You will romance! You will flirt with each other! You will make babies. So, marry someone you can connect with sexually. It will help you to enjoy your marriage so much!
6. MARRY YOUR SOCIAL MATE: Don't marry someone you won't be proud to go out with. Don't marry someone you will be feeling shy to introduce to people with boldness. Marry someone you are comfortable to hang out with. Marry someone you are socially compatible with. Don't marry an anti- social person.
You might be wondering if you can find all the 'mates' in one person. Yes! The answer is YES! You don't need to marry 6 guys/ladies to have all these mates. One person can be all that for you. If you also work on yourself and build your life, you can be all that for the guy/lady that will marry you.
The promise of God for you is this : 'Seek and read from the book of the LORD: Not one of these shall be missing; none shall be without her mate. For the mouth of the LORD has commanded, and his Spirit has gathered them.' (Isaiah 34:16).
Say it loud and clear ' I shall not lack a mate!'
I hope this blessed someone reading?
profile/6781FB_IMG_1568668550374.jpg
Rhoddyken
Buhari Unbundles EFCC, ICPC
President Muhammadu Buhari, yesterday, initiated moves to unbundle the Economic and Financial Crimes Commission (EFCC) and create a new body, Proceeds of Crime Recovery and Management Agency.
President of the Senate, Ahmad Lawan, who read a letter from President Buhari on the proposed bill tagged: "Proceeds of Crime Bill" said it would address the problem of lack of transparency and accountability associated with the management of recovered funds by anti-corruption agencies in the country.
Buhari in the letter explained that the transmission of the piece of legislation to the National Assembly for consideration followed its approval by the Federal Executive Council.
According to the letter dated October 6, the agency would be critical in sustaining the fight against corruption, money laundering and illicit movement of stolen funds through the banking system and across Nigerian borders.
"An important feature of the bill is the creation of the Proceeds of Crime (Recovery and Management) Agency. The objects of the agency include the enforcement and administration of the provisions of the bill and the coordination of the recovery and management of the proceeds and instrumentalities of unlawful activity in Nigeria in all collaboration with anti-corruption and other law enforcement agencies.
"Most importantly, the agency will ensure that Nigerians can benefit from proceeds of crime by ensuring that once recovery is made, the properties and assets will be secured and that the final forfeitures granted through a court order can be paid into the Confiscated and Forfeited Account to be domiciled in the Central Bank of Nigeria."
If signed into law, the bill will stop the EFCC and six other anti-corruption agencies from securing freezing orders on suspicious bank accounts under investigation
The other agencies, include Independent Corrupt Practices and Other Related Offences Commission (ICPC); National Drug Law Enforcement Agency (NDLEA); Nigerian Financial Intelligence Unit (NFIU); National Agency for the Prohibition of Trafficking in Persons (NAPTIP); Code of Conduct Bureau (CCB) and the police.
"The Proceeds of Crime Bill is essential and critical in building and enduring and sustainable foundation for the fight against corruption, money laundering and illicit movement of stolen funds through the banking system and across the Nigerian borders. The bill will also improve the ability of law enforcement agencies to seize, freeze, and confiscated stolen assets in Nigeria while observing all related constitutional and human rights laws," the President said.
When the Bukola Saraki-led senate passed the bill last year, the EFCC, headed by suspended acting chairman, Ibrahim Magu, opposed it and urged President Buhari to reject it.
THE SUN
profile/19564993e8777aa744e7033606eef758c981.jpg
Dantech
Make Up To 20k Daily From This Business In Nigeria