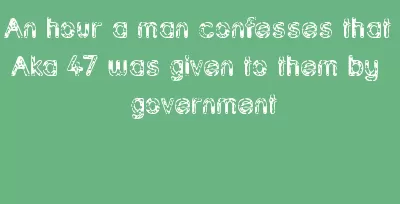 An Hour A Man Confesses That Aka 47 Was Given To Them By Government
---
Meekness9 11 months ago
---
Advertisement
Hours After Man Confessed That Ak- 47 Was Given To Them By The Government, See What Buhari Ordered Soldiers To Do
Farhan02Mar 4, 2021
Insecurity is one of the biggest problem we are facing in Nigeria, many people have lost their lives due to the insecurity problem and also the government have been trying it very best to put an end to this insecurity problem.
Furthermore, it was reported earlier before that a certain man among the group of bandits so called Fulani herdsmen said that the weapons that they are using were given to the by the government. He disclosed this during an interview. It was also reported that the man is a repentant bandit, he said that they were on their way with their caws when the government gave then AK- 47 but he never mention anyone' s name. this news has gone viral on social media.
Hours after the man confessed that weapons are given to them by the government, president muhammadu buhari gives the armed forces an order. He give the soldiers an order to shoot any person they see with a weapon.
The presidential spokesperson also said the federal government declared Zamfara a no- fly zone following intelligence that arms were being transported to the bandits with private jets. Speaking in an interview with the news publication, Shehu said the Nigerian leader directed a clampdown on bandits who have refused to surrender.
According to him, the president ordered security forces to go into the bushes and shoot whoever they see with sophisticated weapons like AK- 47 immediately.
He noted that the government is resorting to lethal force against bandits who have refused to surrender.
In my opinion, if the bandits refuse to surrender and drop their weapons the federal government should give the Nigerian Armed Forces strong weapons to fight against the banditry until the very end and they soldiers should make sure that no any single bandit is left behind.
My fellow Nigerians, what do you think about this? Drop your opinions in the comments section beneath let hear from you.
Advertisement
Disclaimer: This content was not created by any staff or admin of Pejoweb. This platform runs on user generated content. If this post is your copyrighted property, please send a message to the user to give credit or take down your article. If the user fails to adhere, please email us your request at
[email protected]
with proof of ownership, we would take it down.
Please leave a comment (No Registration needed)
Articles you would love to read