Similar background
Similar Interests
26 post(s)
STC30 FIGHTS & MANAGES MORE THAN 200 DISEASES
ChiGod 8 months 180
🍏🍇The SuperLife product STC30 is a plant-based fruit therapy. It's a product ahead of its time which uses stem cells to manage, prevent...
Nothing Is Real About You" – Fans Drag Nengi As Old Photo Confirms She Had Dental Surgery
ChiGod 1 year 432
The popular reality star, Nengi Rebecca Hampson has once again become the topic of the day after an old photo revealed that she once had teeth surgery...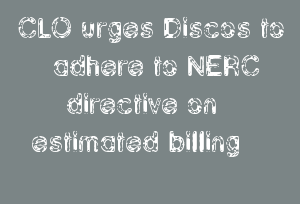 CLO Urges Discos To Adhere To NERC Directive On Estimated Billing
ChiGod 1 year 269
The Civil Liberties Organisation (CLO) has called on electricity Distribution Companies (DisCos) to adhere strictly to National Electricity Regulatory...
Oncologist Said That The Poor Treatment Of Cancer Patients Was As A Result Of Lack Of Infrastructure And Organised System Of Preventive Healthcare.
ChiGod 1 year 271
A Consultant Ocular Oncologist, Dr Abia Nzelu, has decried the growing incidences of cancer disease and the poor attention being given to it in Nigeri...
Enugu By-election Commences Hitch-free, Peacefully
ChiGod 1 year 262
National Enugu by-election commences hitch-free, peacefullyBy Editor05 December 2020 | 10:03 amThe Isi-Uzo S...
Click the a picture as seen on Instagram to visit link