profile/888IMG_20201114_142412_4.jpg
Ihediwa
Five Ways To Boost Sales Online
I know that you must have been struggling with making sales online, either your goods or services. You have posted your goods and services and have gotten little or no response from people. You are at the verge of giving up and packing up your business and you no longer have the motivation to post and showcase your products.
Do you know that you can do something to boost your sales and sell more?
Here are five ways you can boost your sales online.
1. Convey the benefits of your products.
Don't just post your product. Tell your audience about the product and the benefits of using the product.
2. Pick the right prices.
That you are selling a product online doesn't mean that you will put an unreasonable price. Put a price that will not scare your customers away.
3. Run paid ads.
Paid ads will help to give more visibility to your products and make more people to see them.
4. Be consistent in your sales.
Be consistent in posting your products, whether you make daily sales or not. Consistency gives more advertisement to your products.
5. Focus on existing customers.
While searching for new customers, follow up on your existing customers, giving them updates on new products. This will help to keep them interested.
#Howtoboostsales
#Howtosell
#Boostingsales
#Increasingsales
#Sellingproducts
#Moresales
#Onlinesales
profile/3696FB_IMG_166154600052001842.jpg
Ndoma
Northern Governor Hiding N22bn Old Naira Notes – Buba Galadima
Northern governor hiding N22bn old naira notes – Buba Galadima

A Northern leader, Buba Galadima has revealed that a serving governor stashed N22 billion old naira notes.
The former National Secretary of the defunct Congress for Progressive Change, CPC, made the disclosure in an interview on Trust TV's Daily Politics.
Galadima answered a question on the controversial naira redesign policy of the Central Bank of Nigeria, CBN.
The New Nigeria Peoples Party, NNPP, chieftain recalled the party already took a strong position on the contentious issue.
Galadima said the CBN Act states that in an event of naira redesign, it should be done within a period of not less than six months.
profile/9763IMG_20200919_090713_449.jpg
Emmachrisons
TECNO's Ground-breaking PHANTOM X2 Pro 5G Wins Gold At International Design Awards 2022
The recently launched flagship product TECNO PHANTOM X2 Pro 5G surprised the International Design Awards 2022 by winning gold and bronze awards for sustainable design
TECNO, the innovative technology brand active in more than 70 markets worldwide, continues to win accolades as the 16th annual International Design Awards (IDA for short) recently announced the full list of winners, including the impeccable design team behind TECNO's latest flagship product . with the high-end sub-brand PHANTOM X2 Pro 5G Eco-Friendly Edition, which won the Gold Award in Media and Home Electronics - Phones and Other Communication Technology and the Bronze Award for Design for Society, Eco-Friendly and Sustainable Design.
In addition to exceptional processing power, the PHANTOM X2 series also features a seamless curved display that softens the look and feel of the phone. At the same time, the 3.5D Moon Crater back reduces the impact of the camera module, eliminates sharp corners, and provides a beautiful and elegant appearance.
Dedicated to honoring sustainable and intelligent design across disciplines, IDA is an important global reflection of the environmental impact of winning designers and their products. Committed to this cause, the PHANTOM X2 Pro 5G Eco-Friendly Edition is designed with sustainability in mind, with an eco-friendly ultra-thin back made from recycled materials reclaimed from the oceans Each back contains 14.4% recycled material, which can reduce CO2 emissions by around 38%, and each cap emits an average of 2.4g less. This significant reduction in carbon emissions earned it the first ever IDA Award for Sustainable Design. But the work is not done yet The PHANTOM X2 design team hopes to encourage consumers around the world to adopt a sustainable lifestyle. TECNO has always been committed to providing consumers with exceptional products with technology and design, through innovation that constantly pushes the boundaries From 2022 September. from winning the Loop Design Awards for Sustainable Product Design to winning the Gold Award at the IDA, TECNO has truly proven itself to be a force to be reckoned with in the premium smartphone market At the heart of the Stop At Nothing brand, TECNO will continue to create the best modern technology for global consumers, offering them smart and elegantly designed products that inspire them to never stop striving for their best self and best future.
profile/8430Polish_20230206_130828658.jpg
PhilJuris
Man Has Hilarious Reaction After Gecko Jumps On His Face
GECKO – A man went viral because of his hilarious reaction after a reptile jumped unto his face.
A man had the greatest fear for his life when a gecko suddenly jumped toward him, landing on his face.
The man was recording himself while laying on the floor when a gecko landed on his face. Astounded, he immediately stand while complaining about his encounter with the gecko.
Watch full video here:
profile/782520230204_000514_0000.png
Kefson
PRIDE IN RELATIONSHIP
INTRODUCTION
Pride in relationships is what this article explore with the aim of opening the eyes of single brothers and sisters to know the negative effects of pride in relationships. No doubt, scripture affirm that pride goes before destruction.
Many people have loose important persons in their life as the result of pride. I just pray this article will help you!
What is pride?
Merriam-Webster define pride as, "pleasure that comes from some relationship, association, achievement, or possession that is seen as a source of honor, respect, etc."
A feeling of deep pleasure or satisfaction derived from one's own achievements, the achievements of those with whom one is closely associated, or from qualities or possessions that are widely admired.

One of my female friend broke up with her guy and I probed her to know why and she made me understand that the guy has so much pride and ego. He always tells her that he is doing her a favor by being with her. Because he considers himself greater than she. He believes he's too cute for her, too intelligent, or whatever. So she ended the relationship.
Pride can have both positive and negative effects on relationships. On the positive side, pride can lead to confidence and self-esteem, which can help individuals to be more self-assured and assertive in their relationships. This can lead to better communication and more fulfilling interactions with others.
However, when taken to the extreme, pride can become arrogance and egotism, which can damage relationships. An excess of pride can lead individuals to prioritize their own needs and desires above those of their partners, leading to a lack of consideration and empathy. It can also cause individuals to become overly critical or judgmental of others, causing tension and resentment in the relationship. Overall, individuals need to find a balance between confidence and humility in their relationships, as pride can be both a strength and a weakness depending on how it is expressed and managed.
7 negative impacts of pride on love relationship
1. Pride can cause individuals to prioritize their own needs and desires above those of their partners, leading to a lack of consideration and empathy.
2. Pride can lead to a lack of willingness to compromise, which can cause tension and conflict in a relationship.
3. An excess of pride can cause individuals to become overly critical or judgmental of their partners, leading to feelings of inadequacy and resentment.
4. Pride can lead to a lack of vulnerability and emotional openness, which is essential for the growth and intimacy of a relationship.
5. Pride can cause individuals to become resistant to seeking help or support, which can lead to problems in the relationship going unresolved.
6. Pride can lead to a lack of self-awareness and an inability to recognize and address one's flaws, which can lead to conflicts and misunderstandings in the relationship.
7. An excess of pride can lead to arrogance and egotism, which can damage the trust and respect in a relationship.
CONCLUSION
I conclude this article with the following words:
~ Swallow your pride to get what you want.
~ Never consider yourself about anyone.
~ Humble yourself to get the right partner.
Please, drop any further questions, like and share to others.
#kefson.......
profile/7509FB_IMG_16584340855903727.jpg
Victor21
Happy To Be Back. Mountain Climbing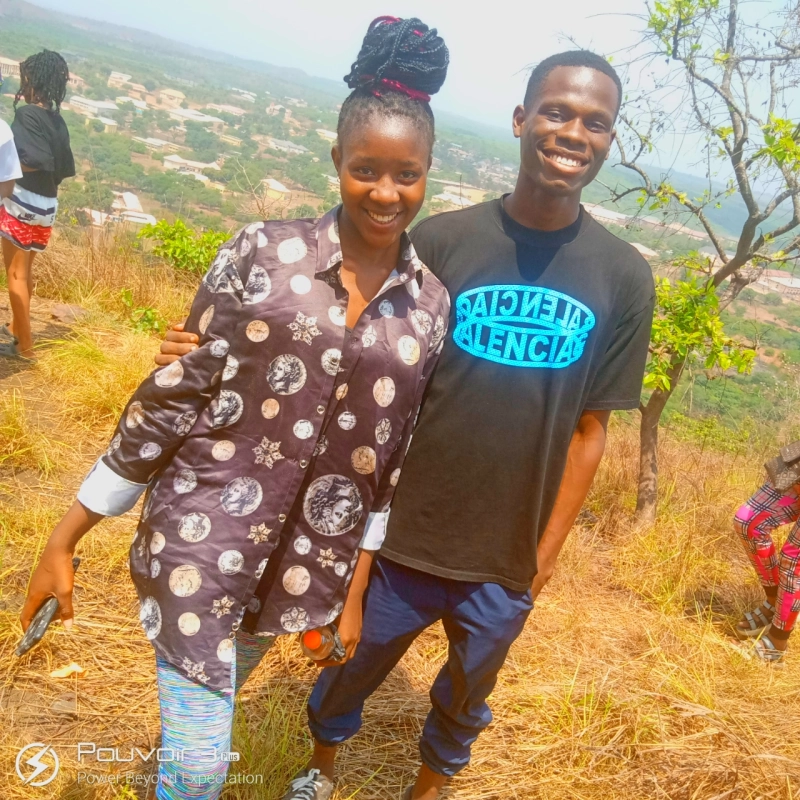 Happy to be back 😊
Today was fun so love to share the experience 🤩.
Normally I am Acrophobia (Scared of heights). But today I decided to overcome that fear. Scary, very scary. looking down while climbing was the most scary part. By God grace we made it to the top and came back in one piece 😅