Advertisement
Personal care and Beauty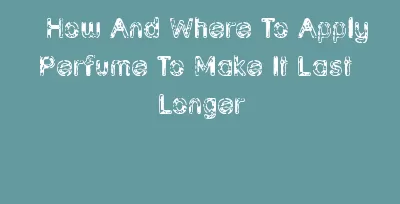 How And Where To Apply Perfume To Make It Last Longer
Xmocrew 5 days 4
Coco Chanel once said that a woman should apply perfume in those areas where she would like to be kissed. While this is most likely true (and utterly ...
Awesome Tips For Great Looking Nails
Xmocrew 5 days 2
Our fingernails are composed of laminated layers of a protein called keratin which grows from the area at the base of the nail under the cuticle. Heal...
How To Be A Mom And Still Feel Sexy
Xmocrew 5 days 2
The unsexiest day of my life came three days after I became a mom, when my husband caught me trying to express milk out of my newly engorged breasts w...
How To Wash Human Hair Extensions: Top Tips
Xmocrew 5 days 4
A lot of women use wigs and extensions. They can make your hairstyle stunning, and your image unique. But how do you look after them?A good wig should...
5 Beauty Accessories A Man Should Have Always
Xmocrew 5 days 3
It's no surprise that men are coming up when it comes to taking proper care of themselves, and so you know, they have beauty needs. Men are more awa...